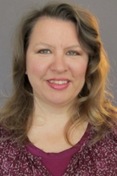 About Michele

Michele has always had a sense of purpose and a call to the spiritual life. As a child, she communicated with the Archangel Michael and felt him to be a protector and guide.

Michele grew up in the ritualistic setting of the Roman Catholic Church. Even to this day, Michele enjoys the lighting of incense and candles, and the ritual aspect of it still resonates in her work. Throughout her teenage years, Michele's parents questioned their own spirituality and explored different religious organizations; of course, bringing along their children in their searching. From her parents questioning, she gained a sense of oneness of all of the religions, regardless of who was worshipped.

As an adult, Michele experienced a tragedy when her best friend was suddenly killed in a car accident. Although Michele had experienced the passing of loved ones before, this was a new kind of grief and questioning. She began to question her own existence and her own spirituality. Thus, began a deeper level of Michele's own personal Spiritual Quest.

The Quest has brought Michele through many experiences, deep work, education and a new purpose in life as a Healer. She was drawn to the power of the Goddess and through experiencing personal healing, is led to bring this incredible power into the lives of others.

As a teacher and guide, Michele brings the depth of her personal experiences and utilizes her incredible Spiritual gifts and training to facilitate helping others to truly find the Goddess. In leading Spiritual workshops, Michele has found her soul calling.
---
Disclaimer: If you browse and use this website, you are agreeing to comply with and be bound by the terms and conditions and disclaimer governed by Cherry Blossom's relationship with you in relation to this website. The information provided in this website is for educational purposes only, as well as to give you general information, not to provide medical advice. By reading this website, you understand that there is no professional relationship between you and Michele Guarino or Cherry Blossom and you further understand it is not to be construed as a substitute for medical examination, diagnosis or treatment. The information provided should not be used as a substitute for professional advice from a doctor. We do not claim, nor intend to treat, cure, prevent illness or disease.
Contact Michele for an Appointment
Michele at Cherry Blossom Reiki dot com
Three Zero Three 884 9175
Certifications and Licenses
Coaching
Hypnotic Coach, American Council of Hypnotist Examiners, License No. HC 116-046 (November 2016)

Hypnotic Coach, Wyoming Institute for Education, Coaching and Hypnotherapy (November 2015)

Past Life Regression certification (September 2015)

Hypnosis for Pain Relief certification (July 2015)

NLP for Psychotherapists, Coaches and Healers certification (May 2016) accredited by the International Medical/Dental Hynotherapy Association, the American Council of Hypnotist Examiners, the International Hypnosis Federation, and the Association for Transpersonal Psychology and Hypnotherapy

Certified Grief Intuitive Coach (December 2013) Sue Frederick, Bridges to Heaven Professional Coaching
Reiki and Energy Work Certifications
Holy Fire I Master ignition (August 2015)

Holy Fire II Reiki Master Upgrade (September 2016) The International Center for Reiki Training, William Lee Rand

Certified Reiki Master and Teacher of Ascension Reiki (April 2014)

Certified Reiki Master and Teacher of Reiju Reiki (April 2014)

Certified Reiki Ryoho Master and Teacher (April 2014)

Reiki Master Teacher attunement, Usui System of Reiki (March 2013)
Other Certifications
Tune & Heal - Cellular Resonance Therapy (Parts I & II) EU Certification Program of Dr. Barbara Romanowska, Sound Academy
Mudra Yoga Teacher: Mudra Teacher Training Level I certification (June 2016) Sabrina Mesko, Ph.D.H.

Aromatouch® Technique Certification (March 2014) Dr. David K. Hill, Chief Medical Officer, doTERRA ®

---