About the AromaTouch™ Technique
AromaTouch Technique
is a clinical approach to applying essential oils along energy meridians and visceral contact points of the back and feet to help balance sympathetic and parasympathetic nervous systems of the body. Developed by Dr. David Hill, a leading expert in integrative medicine and therapeutic applications of essential oils, the AromaTouch Technique improves
well-being
by reducing physical and emotional stressors and by supporting healthy autonomic function. The technique is simple and intuitive and uses
essential oils topically to produce a profound
whole-body wellness experience
for recipients. It seeks to address four systemic constants of daily life (stress management, immune support, muscular response, and internal balance) which may serve as limiting factors in health.
The
AromaTouch
application has the recipient laying face down with their shoes and socks off and back exposed. The application includes a total of eight (8) essential oils or essential oil blends specifically formulated to support healthy
emotional and physiological
functions for well-being. The technique requires 50 to 60 minutes per application.
For Stress Management
The warm, woody aroma of this grounding blend creates a sense of calm and well-being. Perfectly blended with spruce, rosewood, frankincense, and blue tansy with fractionated coconut oil to offer an enticing fragrance which promotes tranquility and a sense of balance.
Lavender. Widely used and accepted for its calming and relaxing qualities.
For Immune Support
Melaleuca. Recognized by its more common name "tea tree," melaleuca has been revered for its cleansing and regenerative properties, especially for the skin. Composed of more than ninety different compounds, melaleuca has limitless therapeutic applications.
A unique, proprietary blend formulated to support healthy immune function. Wild orange essential oil, combined with clove, cinnamon, eucalyptus and rosemary offer a fragrant, natural and effective alternative to synthetic options for immune support.
For Muscular Response
A proprietary massage blend combining the therapeutic benefits of oils well-known to relax muscles, calm tension, soothe irritated tissue, increase circulation, smooth and tone. AromaTouch combines high quality essential oil of basil, grapefruit, cypress, marjoram, peppermint and lavender in a perfectly relaxing blend which adds important benefits to various massage techniques.
A soothing solution to sufferers of occasional discomfort. Wintergreen, camphor, peppermint, blue tansy, blue chamomile, helichrysum and osmanthus work together to ease achy joints and sore muscles. Its effects are deep and penetrating with sustained results. Once gently rubbed into the area of discomfort, its cool therapeutic benefit will be felt almost immediately.
For Internal Balance (Homeostasis)
Wild Orange. Cold-pressed from the orange peel, wild orange is excellent for energizing and revitalizing. It is also commonly used as an effective tool for uplifting mood. It is often used to relieve feelings of anxiety and stress.
Peppermint. Used to ease breathing and for its invigorating and uplifting properties. Also used as a digestive aid.
For more information about the AromaTouch Technique, please contact me and I will be happy to discuss it with you.
NOW OFFERING Option of adding PrimeMyBody CBD Hemp Oil to your AromaTouch technique.
Each pump is $10.00 additional and contains approximately 4-5 mg of Phytocannabinoid Diols.
Disclaimer: Will you fail a drug screening from taking Nano-Enhanced Hemp Oil? Most workplace drug screens and tests target delta9-tetrahydrocannabinol (THC) and do not detect the presence of Cannabidiols or other legal natural hemp based constituents. However, studies have shown that eating hemp foods and oils can cause confirmed positive results when screening urine and blood specimens. Accordingly, if you are subject to any form of drug testing or screening, we recommend (as does the United States Armed Services) that you DO-NOT ingest this product. Prior to consuming these products consult with your healthcare practitioner, drug screening\testing company or employer.
---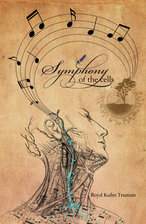 Symphony of the Cells
by Boyd Kuhn Truman

Session is approximately 1 hour to 1 hour 15 minutes.

Michele uses the AromaTouch Technique application process as above, and incorporates the protocols used in the Symphony of the Cells instruction booklet. After the application of the oils, the client is then discreetly turned over (always under a sheet or blanket) and left on the Biomat for 10 to 15 minutes for the warmth to penetrate

Please consult the Rates page for each of these applications. Since some of these essential oils are exotic and expensive (e.g., Frankincense, Melissa and Helichrysum), the oil "up charge" will be reflected accordingly.

Cardiovascular Support: essential oils of: Frankincense, Thyme, Lemongrass, Marjoram, Basil, Lavender and Peppermint.

Digestive Support: essential oils of: Frankincense, Thyme, Bergamot, Coriander, Ginger, Geranium and Peppermint.

Immune Support: essential oils of: Frankincense, Oregano, Thyme, Lemongrass, Melaleuca, Melissa and Peppermint.

Immune Support #2: essential oils of: Frankincense, Melaleuca, Wintergreen/Birch, Lemongrass, White Fir, and Peppermint.

Lymphatic Support: essential oils of: Frankincense, Rosemary, Lemongrass, Lemon, Grapefruit, Ginger and Peppermint.

Neurological Support: essential oils of: Frankincense, Thyme, Clove, Lemongrass, Melissa, Patchouli, Bergamot and Peppermint.

Muscular Skeletal Support: essential oils of: Frankincense, Rosemary, Lemongrass, Grapefruit, Lemon, Helichrysum, White Fir and Peppermint.

Respiratory Support: essential oils of: Frankincense, Melaleuca, Rosemary, Eucalyptus, Melissa and Peppermint.

---
GIFT CERTIFICATES are Available
Please inquire about multi-session package discounts
The prices below include the cost of the oils used. I only use doTERRA high quality, certified therapeutic grade oils.
AromaTouch CBD Hemp Addition

Optional addition to the AromaTouch Therapy of CBD Hemp Oil. Please select how many pumps you wish to add to your session. SEE ALSO DISCLAIMER on the AromaTouch page regarding drug testing.